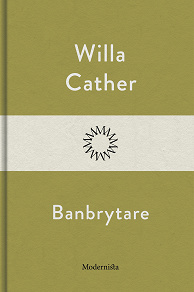 Isbn:
978-91-8063-300-0
Publisher:
Modernista
Category:
Novels
Accessible since:
August 2022
---
Banbrytare
När den unga svenskättade Alexandra Bergson ärver sin fars gård i Nebraska måste hon förvandla marken från vindpinat prärielandskap till ett gynnsamt företag. Hon hänger sig marken fullständigt – till priset av stora uppoffringar.
Banbrytare [O Pioneers!, 1913] är Willa Cathers stora mästerverk om amerikanska nybyggare, där jorden är en lika viktig karaktär som människorna som brukar den. I översättning av Hildegard Wieselgren.

WILLA CATHER [1873-1947] var en amerikansk författare. Efter studier vid universitetet i Nebraska arbetade hon som lärare och journalist. Cathers romaner handlar ofta bosättare i USA med kvinnliga pionjärer i fokus. 1923 tilldelades hon Pulitzerpriset för romanen One of Ours och 1943 valdes hon in i American Academy of Arts and Sciences.
---