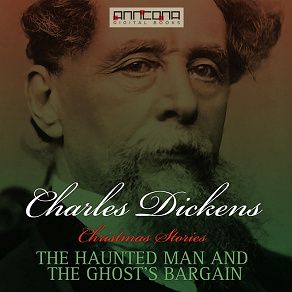 Isbn:
978-91-7605-415-4
Publisher:
Anncona Media
Category:
Novels
In english
Accessible since:
January 2015
Narrator:
Ruth Golding
Length: 4 hours 13 minutes
---
The Haunted Man and the Ghost's Bargain
The Haunted Man and the Ghost's Bargain, A Fancy for Christmas-Time, is a novella by Charles Dickens first published in 1848. It is the fifth and last of Dickens's Christmas novellas, preceded by A Christmas Carol (1843), The Chimes (1844), The Cricket on the Hearth (1845) and The Battle of Life (1846). The story is more about the spirit of the holidays than about the holidays themselves, harking back to the first in the series, A Christmas Carol. The tale centres on a Professor Redlaw and those close to him.
Redlaw is a teacher of chemistry who often broods over wrongs done him and grief from his past. He is haunted by a spirit, who is not so much a ghost as Redlaw's phantom twin and is "an awful likeness of himself...with his features, and his bright eyes, and his grizzled hair, and dressed in the gloomy shadow of his dress..." This spectre appears and proposes to Redlaw that he can allow him to "forget the sorrow, wrong, and trouble you have known...to cancel their remembrance..." Redlaw is hesitant at first, but finally agrees. However, before the spirit vanishes it imposes an additional consequence: "The gift that I have given you, you shall give again, go where you will."
Audiobook running time: 4 hours, 14 min. Unabridged version.
Charles Dickens (1812-1870) was an English writer and social critic. He created some of the world's most memorable fictional characters and is generally regarded as the greatest novelist of the Victorian period. During his life, his works enjoyed unprecedented fame, and by the twentieth century his literary genius was broadly acknowledged by critics and scholars. His novels and short stories continue to be widely popular. Dickens was regarded as the literary colossus of his age. His 1843 novella, A Christmas Carol, is one of the most influential works ever written, and it remains popular and continues to inspire adaptations in every artistic genre. Set in London and Paris, his 1859 novel, A Tale of Two Cities, is the best selling novel of all time. His creative genius has been praised by fellow writers - from Leo Tolstoy to George Orwell and G. K. Chesterton - for its realism, comedy, prose style, unique characterisations, and social criticism.
Listen to sample
---