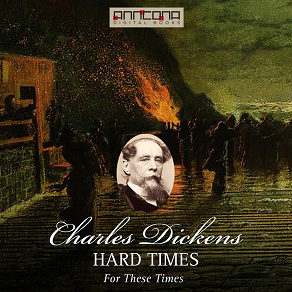 Isbn:
978-91-7605-410-9
Publisher:
Anncona Media
Category:
Novels
In english
Accessible since:
January 2015
Narrator:
Phil Benson
Length: 10 hours 41 minutes
---
Hard Times
Hard Times – For These Times (commonly known as Hard Times) is the tenth novel by Charles Dickens, first published in 1854. The book appraises English society and is aimed at highlighting the social and economic pressures of the times.
Hard Times is unusual in several respects. It is by far the shortest of Dickens' novels, barely a quarter of the length of those written immediately before and after it. Moreover, it is his only novel not to have scenes set in London. Instead the story is set in the fictitious Victorian industrial Coketown, a generic Northern English mill-town, in some ways similar to Manchester, though smaller. Coketown may be partially based upon 19th-century Preston.
One of Dickens's reasons for writing Hard Times was that sales of his weekly periodical, Household Words, were low, and it was hoped its publication in installments would boost circulation – as indeed proved to be the case.
Audiobook running time: 11 hours, 40 min. Unabridged version - 106,308 words - 295 pages in the printed edition.
Charles John Huffam Dickens (1812-1870) was an English writer and social critic. He created some of the world's most memorable fictional characters and is generally regarded as the greatest novelist of the Victorian period. During his life, his works enjoyed unprecedented fame, and by the twentieth century his literary genius was broadly acknowledged by critics and scholars. His novels and short stories continue to be widely popular. Dickens was regarded as the literary colossus of his age. His 1843 novella, A Christmas Carol, is one of the most influential works ever written, and it remains popular and continues to inspire adaptations in every artistic genre. Set in London and Paris, his 1859 novel, A Tale of Two Cities, is the best selling novel of all time. His creative genius has been praised by fellow writers - from Leo Tolstoy to George Orwell and G. K. Chesterton - for its realism, comedy, prose style, unique characterisations, and social criticism.
Listen to sample
---