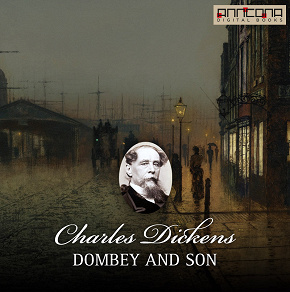 Isbn:
978-91-7605-200-6
Publisher:
Anncona Media
Category:
Novels
In english
Accessible since:
April 2014
Narrator:
Mil Nicholson
Length: 39 hours 57 minutes
---
Dombey and Son
Dombey and Son is a novel by Charles Dickens, published in monthly parts from October 1846 to April 1848 and in one volume in 1848. Its full title is: Dealings with the Firm of Dombey and Son: Wholesale, Retail and for Exportation.

The story concerns Paul Dombey, the wealthy owner of the shipping company of the book's title, whose dream is to have a son to continue his business. The book begins when his son is born, and Dombey's wife dies shortly after giving birth. Following the advice of Mrs Louisa Chick, his sister, Dombey employs a wet nurse named Mrs Richards. Dombey already has a daughter, Florence, whom he neglects. One day, Mrs Richards, Florence and her maid, Susan Nipper, secretly pay a visit to Mrs Richard's house in Staggs's Gardens so that she can see her children. During this trip, Florence becomes separated and is kidnapped…

As with most of Dickens' work, a number of socially significant themes are to be found in this book. In particular the book deals with the then-prevalent common practice of arranged marriages for financial gain. Other themes to be detected within this work include child cruelty (particularly in Dombey's treatment of Florence), familial relationships, and as ever in Dickens, betrayal and deceit and the consequences thereof. Another strong central theme, which the critic George Gissing elaborates on in detail in his 1925 work The Immortal Dickens, is that of pride and arrogance, of which Paul Dombey senior is the extreme exemplification in Dickens' work.

Audiobook running time: 40 hours. Unabridged version - 366,519 words - 1,009 pages in the printed edition.

Charles John Huffam Dickens (1812-1870) was an English writer and social critic. He created some of the world's most memorable fictional characters and is generally regarded as the greatest novelist of the Victorian period. During his life, his works enjoyed unprecedented fame, and by the twentieth century his literary genius was broadly acknowledged by critics and scholars. His novels and short stories continue to be widely popular. Dickens was regarded as the literary colossus of his age. His 1843 novella, A Christmas Carol, is one of the most influential works ever written, and it remains popular and continues to inspire adaptations in every artistic genre. Set in London and Paris, his 1859 novel, A Tale of Two Cities, is the best selling novel of all time. His creative genius has been praised by fellow writers, from Leo Tolstoy to George Orwell and G. K. Chesterton, for its realism, comedy, prose style, unique characterisations, and social criticism.
Listen to sample
---