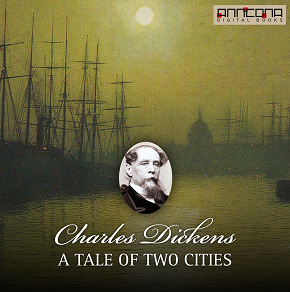 Isbn:
978-91-7605-194-8
Publisher:
Anncona Media
Category:
Novels
History
In english
Accessible since:
April 2014
Narrator:
Paul Adams
Length: 15 hours 16 minutes
---
A Tale of Two Cities
A Tale of Two Cities (1859) is a novel by Charles Dickens, set in London and Paris before and during the French Revolution. With well over 200 million copies sold, it ranks among the most famous works in the history of fictional literature.

The novel depicts the plight of the French peasantry demoralised by the French aristocracy in the years leading up to the revolution, the corresponding brutality demonstrated by the revolutionaries toward the former aristocrats in the early years of the revolution, and many unflattering social parallels with life in London during the same time period. It follows the lives of several protagonists through these events. The most notable are Charles Darnay and Sydney Carton. Darnay is a former French aristocrat who falls victim to the indiscriminate wrath of the revolution despite his virtuous nature, and Carton is a dissipated English barrister who endeavors to redeem his ill-spent life out of his unrequited love for Darnay's wife. The 45-chapter novel was published in 31 weekly installments in Dickens's new literary periodical titled All the Year Round.

A Tale of Two Cities is one of only two works of historical fiction by Charles Dickens (Barnaby Rudge is the other one).

A Tale of Two Cities stands out from most of Dickens's other novels as the one containing the least humour. That is not surprising, as the historical context and focus of the novel, the French Reign of Terror, might be too bleak to allow for the wackier characters Dickens is known for. Still, Dickens, in his usual manner, manages to find the opportunity to make a number of wry comments about various aspects of the era and of the darker side of human nature. If a humorous character is to be found anywhere in the novel, it would likely be Jerry Cruncher; however, his occupation as a "resurrectionist" (grave-robber) and his abuse of his wife casts a more sinister light on his character.

Total running time: 15 hours. Unabridged version - 139,545 words - 383 pages in the printed edition.

Charles John Huffam Dickens (1812-1870) was an English writer and social critic. He created some of the world's most memorable fictional characters and is generally regarded as the greatest novelist of the Victorian period. During his life, his works enjoyed unprecedented fame, and by the twentieth century his literary genius was broadly acknowledged by critics and scholars. His novels and short stories continue to be widely popular. Dickens was regarded as the literary colossus of his age. His 1843 novella, A Christmas Carol, is one of the most influential works ever written, and it remains popular and continues to inspire adaptations in every artistic genre. Set in London and Paris, his 1859 novel, A Tale of Two Cities, is the best selling novel of all time. His creative genius has been praised by fellow writers, from Leo Tolstoy to George Orwell and G. K. Chesterton, for its realism, comedy, prose style, unique characterisations, and social criticism.
Listen to sample
---