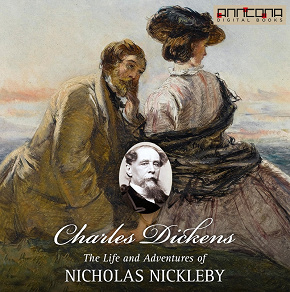 Isbn:
978-91-7605-210-5
Publisher:
Anncona Media
Category:
Novels
In english
Accessible since:
April 2014
Narrator:
Mil Nicholson
Length: 35 hours 12 minutes
---
The Life and Adventures of Nicholas Nickleby
The Life and Adventures of Nicholas Nickleby was Charles Dickens' third novel. Originally published as a serial from 1838 to 1839. The novel centers on the life and adventures of Nicholas Nickleby, a young man who must support his mother and sister after his father dies. His Uncle Ralph, who thinks Nicholas will never amount to anything, plays the role of principal antagonist.

'Nicholas Nickleby' marks a new development as it is the first of Dickens' romances. When it was published the book was an immediate and complete success and established Dickens's lasting reputation.

Like many of Dickens' works, the novel has a contemporary setting. Much of the action takes place in London, with several chapters taking place in Dickens' birthplace of Portsmouth, as well as settings in Yorkshire and Devon.

The tone of the work is that of ironic social satire, with Dickens taking aim at what he perceives to be social injustices. Many memorable characters are introduced, including Nicholas' malevolent Uncle Ralph, and the villainous Wackford Squeers, who operates an abusive all-boys boarding school at which Nicholas temporarily serves as a tutor.

Unabridged version - 328,417 words - 901 pages in the printed edition. Audiobook running time: 35 hours.

Charles John Huffam Dickens (1812-1870) was an English writer and social critic. He created some of the world's most memorable fictional characters and is generally regarded as the greatest novelist of the Victorian period. During his life, his works enjoyed unprecedented fame, and by the twentieth century his literary genius was broadly acknowledged by critics and scholars. His novels and short stories continue to be widely popular. Dickens was regarded as the literary colossus of his age. His 1843 novella, A Christmas Carol, is one of the most influential works ever written, and it remains popular and continues to inspire adaptations in every artistic genre. Set in London and Paris, his 1859 novel, A Tale of Two Cities, is the best selling novel of all time. His creative genius has been praised by fellow writers, from Leo Tolstoy to George Orwell and G. K. Chesterton, for its realism, comedy, prose style, unique characterisations, and social criticism.
Listen to sample
---