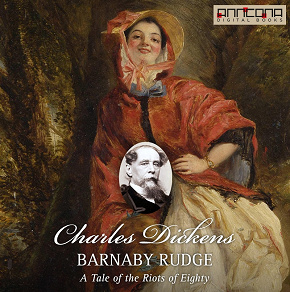 Isbn:
978-91-7605-202-0
Publisher:
Anncona Media
Category:
Novels
History
In english
Accessible since:
April 2014
Narrator:
Mil Nicholson
Length: 28 hours 26 minutes
---
Barnaby Rudge
Barnaby Rudge - A Tale of the Riots of Eighty (commonly known as Barnaby Rudge) is a historical novel by Charles Dickens published in 1841. Barnaby Rudge was the fifth of Dickens' novels to be published.

Gathered round the fire at the Maypole Inn, in the village of Chigwell, on an evening of foul weather in the year 1775, are John Willet, proprietor of the Maypole, and his three cronies. One of the three, Solomon Daisy, tells a stranger at the inn a well-known local tale of the murder of Reuben Haredale which had occurred 22 years ago that very day. Reuben had been the owner of the Warren, a local estate which is now the residence of Geoffrey, the deceased Reuben's brother, and Geoffrey's niece, Reuben's daughter Emma Haredale. After the murder, Reuben's gardener and steward went missing and were suspects in the crime. A body was later found and identified as that of the steward, so that the gardener was assumed to be the murderer…

Barnaby Rudge was Dickens' first historical novel (his only other being the much later A Tale of Two Cities, also set in revolutionary times).

Unabridged version - 258,334 words - 719 pages in the printed edition. Audiobook running time: 29 hours.

Charles John Huffam Dickens (1812-1870) was an English writer and social critic. He created some of the world's most memorable fictional characters and is generally regarded as the greatest novelist of the Victorian period. During his life, his works enjoyed unprecedented fame, and by the twentieth century his literary genius was broadly acknowledged by critics and scholars. His novels and short stories continue to be widely popular. Dickens was regarded as the literary colossus of his age. His 1843 novella, A Christmas Carol, is one of the most influential works ever written, and it remains popular and continues to inspire adaptations in every artistic genre. Set in London and Paris, his 1859 novel, A Tale of Two Cities, is the best selling novel of all time. His creative genius has been praised by fellow writers, from Leo Tolstoy to George Orwell and G. K. Chesterton, for its realism, comedy, prose style, unique characterisations, and social criticism.
Listen to sample
---