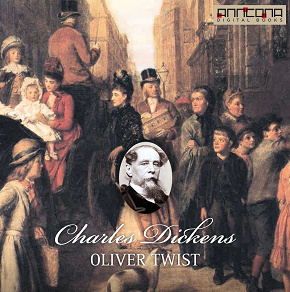 Isbn:
978-91-7605-196-2
Publisher:
Anncona Media
Category:
Novels
In english
Accessible since:
April 2014
Length: 14 hours 55 minutes
---
Oliver Twist
Oliver Twist, is the second novel by Charles Dickens, published by Richard Bentley in 1838. The story is about an orphan, Oliver Twist, who endures a miserable existence in a workhouse and then is placed with an undertaker. He escapes and travels to London where he meets the Artful Dodger, leader of a gang of juvenile pickpockets. Naively unaware of their unlawful activities, Oliver is led to the lair of their elderly criminal trainer Fagin.
Oliver Twist is notable for Dickens' unromantic portrayal of criminals and their sordid lives. The book exposed the cruel treatment of many a waif-child in London, which increased international concern in what is sometimes known as "The Great London Waif Crisis": the large number of orphans in London in the Dickens era.

In Oliver Twist, Dickens mixes grim realism with merciless satire to describe the effects of industrialism on 19th-century England and to criticise the harsh new Poor Laws. Oliver, an innocent child, is trapped in a world where his only options seem to be the workhouse, Fagin's gang, a prison, or an early grave. From this unpromising industrial/institutional setting, however, a fairy tale also emerges. In the midst of corruption and degradation, the essentially passive Oliver remains pure-hearted; he steers away from evil when those around him give in to it, and in proper fairy-tale fashion, he eventually receives his reward, leaving for a peaceful life in the country, surrounded by kind friends. On the way to this happy ending, Dickens explores the kind of life an outcast, orphan boy could expect to lead in 1830s London.

Oliver Twist has been the subject of numerous film and television adaptations, and is the basis for a highly successful musical play and the multiple Academy Award winning 1968 motion picture made from it.

Unabridged version - 161,784 words - 460 pages in the printed edition.

Charles John Huffam Dickens (1812-1870) was an English writer and social critic. He created some of the world's most memorable fictional characters and is generally regarded as the greatest novelist of the Victorian period. During his life, his works enjoyed unprecedented fame, and by the twentieth century his literary genius was broadly acknowledged by critics and scholars. His novels and short stories continue to be widely popular. Dickens was regarded as the literary colossus of his age. His 1843 novella, A Christmas Carol, is one of the most influential works ever written, and it remains popular and continues to inspire adaptations in every artistic genre. Set in London and Paris, his 1859 novel, A Tale of Two Cities, is the best selling novel of all time. His creative genius has been praised by fellow writers, from Leo Tolstoy to George Orwell and G. K. Chesterton, for its realism, comedy, prose style, unique characterisations, and social criticism.
Listen to sample
---