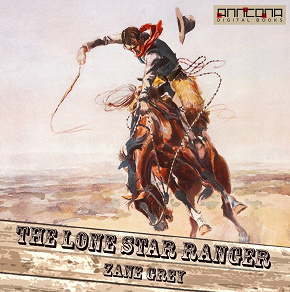 Isbn:
978-91-7605-177-1
Publisher:
Anncona Media
Category:
Novels
In english
Accessible since:
March 2014
Narrator:
Mark F. Smith
Length: 11 hours 3 minutes
---
The Lone Star Ranger
The Lone Star Ranger is a Western novel published by Zane Grey in 1915. It follows the life of Buck Duane, a man who becomes an outlaw and then redeems himself in the eyes of the law. The novel is a story of Texas in the period of the Seventies. After killing a man in self-defense, Buck Duane becomes an outlaw, a companion of the gunfighters and rustlers who live along the Texas border. In a camp on the Mexican side of the river, he finds a young girl held prisoner, and in attempting to rescue her, brings down upon himself the wrath of her captors and henceforth is forced to live a lonely life - hunted on one side by honest men, on the other by outlaws. The novel was adapted four times to film under the same title as the novel.

The novel is often referred to as part of the Purple Sage Trilogy, including "Riders Of The Purple Sage" (1912), "The Lone Star Ranger" (1915) and "The Border Legion" (1916).

Pearl Zane Grey (1872-1939) was an American author best known for his popular adventure novels and stories that presented an idealized image of the American frontier. Riders of the Purple Sage (1912) was his best-selling book. In addition to the success of his printed works, they later had second lives and continuing influence when adapted as films and television productions. As of 2012, 112 films, two television episodes, and a television series, Dick Powell's Zane Grey Theater, had been made that were based loosely on his novels and short stories.

Grey became one of the first millionaire authors. With his veracity and emotional intensity, he connected with millions of readers worldwide, during peacetime and war, and inspired many Western writers who followed him. Zane Grey was a major force in shaping the myths of the Old West; his books and stories were adapted into other media, such as film and TV productions. He was the author of more than 90 books, some published posthumously and/or based on serials originally published in magazines. His total book sales exceed 40 million.

Grey wrote not only Westerns, but two hunting books, six children's books, three baseball books, and eight fishing books. Many of them became bestsellers. It is estimated that he wrote over nine million words in his career. From 1917 to 1926, Grey was in the top ten best-seller list nine times, which required sales of over 100,000 copies each time. Even after his death, Harper had a stockpile of his manuscripts and continued to publish a new title each year until 1963. During the 1940s and afterward, as Grey's books were reprinted as paperbacks, his sales exploded.

Erle Stanley Gardner, prolific author of mystery novels and the Perry Mason series, said of Grey:

"[He] had the knack of tying his characters into the land, and the land into the story. There were other Western writers who had fast and furious action, but Zane Grey was the one who could make the action not only convincing but inevitable, and somehow you got the impression that the bigness of the country generated a bigness of character."
Listen to sample
---