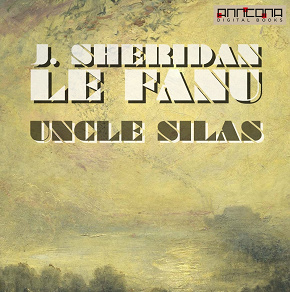 Isbn:
978-91-7605-146-7
Publisher:
Anncona Media
Category:
Novels
Crime & Mystery
In english
Accessible since:
March 2014
Narrator:
Great Plains
Length: 18 hours 17 minutes
---
Uncle Silas
Uncle Silas is a Victorian Gothic mystery-thriller novel by the Irish writer J. Sheridan Le Fanu. It is notable as an early example of the locked room mystery subgenre. It is not a novel of the supernatural (despite a few creepily ambiguous touches), but does show a strong interest in the occult and in the ideas of Emanuel Swedenborg, a Swedish scientist, philosopher and Christian mystic.

Like many of Le Fanu's novels, it grew out of an earlier short story, "A Passage in the Secret History of an Irish Countess" (1839), which he also published as "The Murdered Cousin" in the 1851 collection Ghost Stories and Tales of Mystery. The setting of the original story was Irish; presumably it was changed to Derbyshire for the novel because this would appeal more to a British audience. It was first serialized in the Dublin University Magazine in 1864, under the title Maud Ruthyn and Uncle Silas, and appeared in December of the same year as a triple-decker novel from the London publisher Richard Bentley.

Uncle Silas remains Le Fanu's best-known and most popular novel. It was the source for Arthur Conan Doyle's The Firm of Girdlestone, and remains a touchstone for contemporary mystery fiction. There are also strong connections between Uncle Silas and some of Wilkie Collins' better-known novels, especially The Woman in White; both writers, while recognisably within the Gothic tradition, depict heroines who are far more highly developed than the persecuted maidens of Ann Radcliffe and others.

Joseph Thomas Sheridan Le Fanu (1814-1873) was an Irish writer of Gothic tales and mystery novels. He was the leading ghost-story writer of the nineteenth century and was central to the development of the genre in the Victorian era. Three of his best known works are "Uncle Silas", "Carmilla" and "The House by the Churchyard".

Le Fanu worked in many genres but remains best known for his mystery and horror fiction.  He specialised in tone and effect rather than "shock horror", and liked to leave important details unexplained and mysterious. He avoided overt supernatural effects: in most of his major works, the supernatural is strongly implied but a "natural" explanation is also possible.  Though other writers have since chosen less subtle techniques, Le Fanu's best tales, such as the vampire novella "Carmilla", remain some of the most powerful in the genre. He had enormous influence on one of the 20th century's most important ghost story writers, M. R. James.
Listen to sample
---